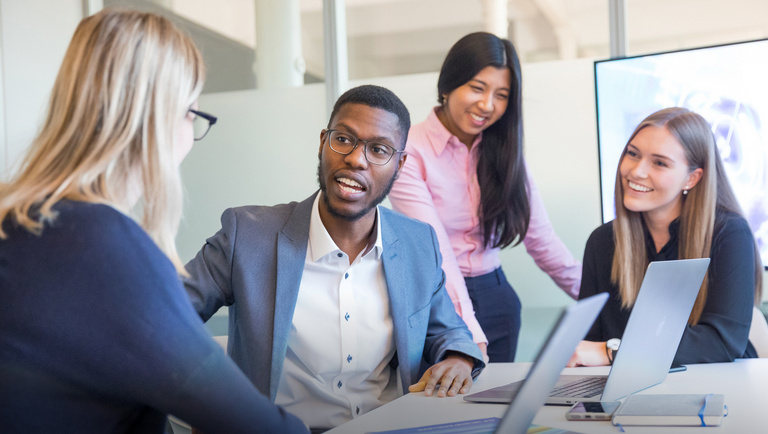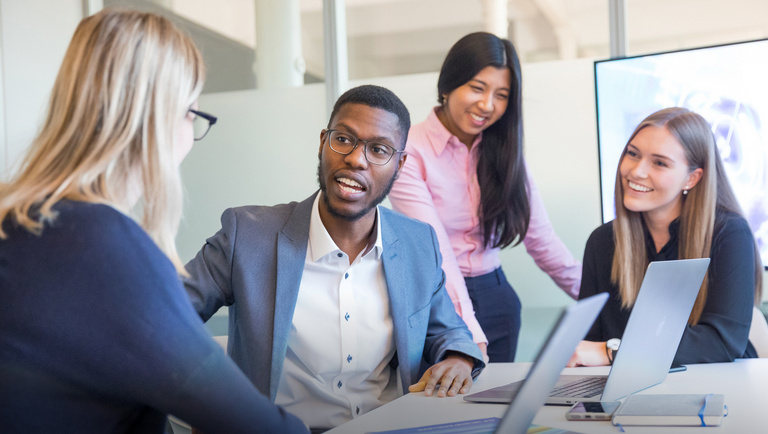 We strive for excellence in everything we do. Join us.
Go straight from studying into a career in consulting based on a unique approach and with no detours: Welcome to MHP! We combine extensive IT and technology expertise with in-depth management know-how. This is what makes MHP the ideal partner for successful digital transformations and for boosting your career prospects.
Joining MHP puts you right at the center of the mobility and manufacturing sector's most exciting transformation phase to date. As part of our team, you will develop innovative concepts and solutions, connect entire ecosystems and design business and production processes to be more flexible and efficient, both end to end and at every point throughout the value chain.
You choose your priorities: Graduates can immerse themselves in one of our innovative departments: Technology & Data, Value Chain & Digital Solutions, and Strategy & Transformation. We work with you to find the right place to start your career at MHP, based on your previous experience and your personal objectives.
---
---

Consulting & Daily Work
What is it like to work on a project at MHP? Well, consulting involves 100% flexibility, a dynamic approach and new challenges every day. Depending on the specific request, you may need to advise customers on site or remotely – for one project or multiple projects at the same time. One thing is always guaranteed on any project: the support of your MHP team.
So, what are we looking for? Graduates with the right profile and passion. Full-stack developers are an asset to our tech teams. Business information specialists drive our pioneering process innovations. Strategists offer a new perspective at management level. Take advantage of this opportunity to join us and shape the future of the mobility and manufacturing sector, as well as your career. Grow in your own way!

Learning & Development
Digital, personal and self-organized learning that fits alongside your day-to-day work.
A career in consulting demands the right expertise to stay up to date in your field. Does that sound like your kind of challenge? Pleased to hear it. All of our team members have opportunities to continue their professional and personal development.
Learning at MHP is a holistic and dynamic experience, and one that always accounts for the challenges of the future, our current setup and industry-specific trends. Your learning journey is always tailored to you as an individual.
In addition to specialist and technical input, we offer soft skills training and opportunities to attend interdisciplinary workshops and technical conferences. We think variety is essential, so we use flexible and digital learning platforms to supplement your classroom-based training.
Our innovative events are another great way to continue expanding your horizons, giving you an insight into the projects happening across multiple fields.
We learn from each other, we give and receive feedback, and we develop together – these are key components of our learning organization. Reach your full potential within a strong team.

Graduate Onboarding & Learning Journey
For your perfect start as a Junior Consultant at MHP, we offer you an intensive and varied onboarding program in addition to the MHPStarterDays.
Our GROW program, the Graduate Onboarding Weeks, will give you a soft skills and methods boost, as well as in-depth, specialist knowledge, depending on your future tasks and specialist areas of focus – both management skills and IT knowledge will not fall short here.
As an SAP Junior Consultant, you will get a special deep dive and can participate in an intensive SAP training program as part of GROW: The SAP Acadamy. Here you will be prepared for your day-to-day work in the SAP environment and, in addition to in-depth knowledge, you will also acquire three official SAP certificates as part of a wide range of training courses and a case study.
Many Questions & Many Answers
Time to shift the roles. Our juniors grasped the opportunity to put our seniors on the spot by asking them burning questions. Insights out!

Oops, an error occurred! Code: 20230602141344262a64db
Daily Life & Teaming