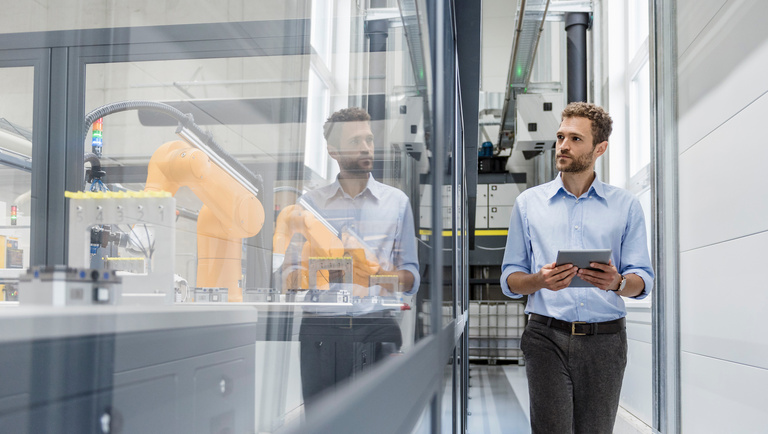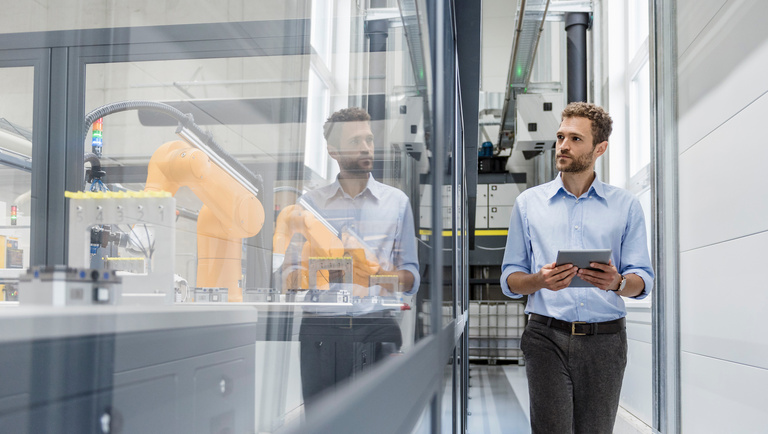 Sounce by MHP
AI-powered acoustic testing:
increasing quality and reducing costs
Reliable fault detection in production and development
Sounce enables automatic detection of unwanted noise in real time, for example for fault detection during the assembly process, at end-of-line stations or on development test benches. Through continuous monitoring and testing, defects that would otherwise go unnoticed are detected and documented.
Five steps to AI-based noise detection
---
---
---
Where can Sounce be used?
Product overview
Consultation on selecting the right solution methodology, support for series application through operations expertise – initial analysis of existing data.
At the beginning of our projects, non-binding information is provided on the possible use of Sounce on your test benches. We support you in finding connections between pieces of your existing data in order to draw conclusions about possible damage or defects.
Do you already have in-house AI expertise and are able to develop, train and adapt models to your specific use cases?
Sounce offers you the opportunity to turn your AI models into a functional software-as-a-service solution that can be quickly and easily integrated into your processes.
In addition, you can benefit from our AI application expertise and increase the accuracy of your AI models in the application on the test bench.
Do you have existing test processes with defined limits? Sounce offers you the ability to complement these fixed limits with automatically self-learning limits.
From model development and model training with your data to the application itself and the associated monitoring, Sounce covers all the functions needed for production use.
Use cases
Functionality testing
Quality assurance software must be reliable while also being able to adapt flexibly and quickly to new demands.
Sounce enables intelligent monitoring of mechanical component tests, for example, when checking motion, positioning or alignment. The actively learning system also detects newly occurring faults precisely and in good time. The use of deep learning avoids the need for time-consuming work on defining manual limit values and also provides new insights into error characteristics and their cause.
Material testing
The quality and behavior of materials is determined by means of various test methods in order to ensure high-quality processing.
A large amount of test data and process parameters are often available without any direct noticeable correlation to material quality. Subsequent destructive testing is expensive and time consuming.
With Sounce, information from different data sources can be quickly and effectively collected and analyzed, meaning that faults and defects can then be detected automatically. The self-learning system evaluates test processes, which can also be monitored remotely via the web application. Possible uses include monitoring of welding, milling or injection molding processes.
Acoustic assessment
Testing and compliance with acoustic quality specifications is becoming increasingly important. Defining assessment systems for individual noise types or indicators is complex and time consuming.
Sounce offers acoustic testing without the need to pre-define or specify the anomalies to be detected. For example, in machine-speed-dependent assessments, combining conventional analysis techniques with deep learning methods offers new ways of reliably detecting noise and identifying its cause.
Strategic partners we work with in the Sounce sector