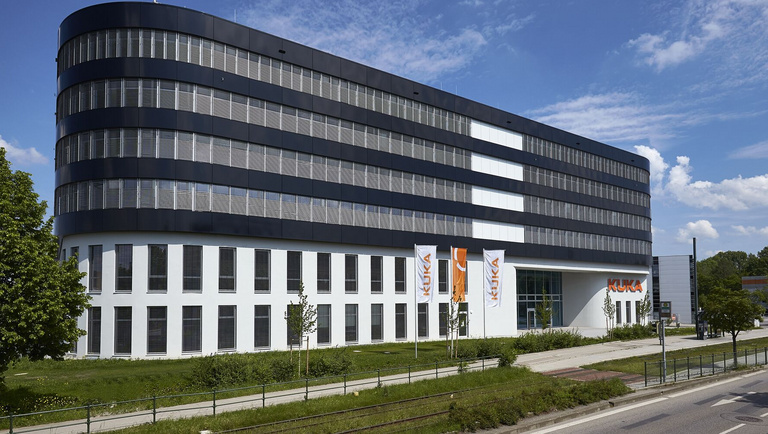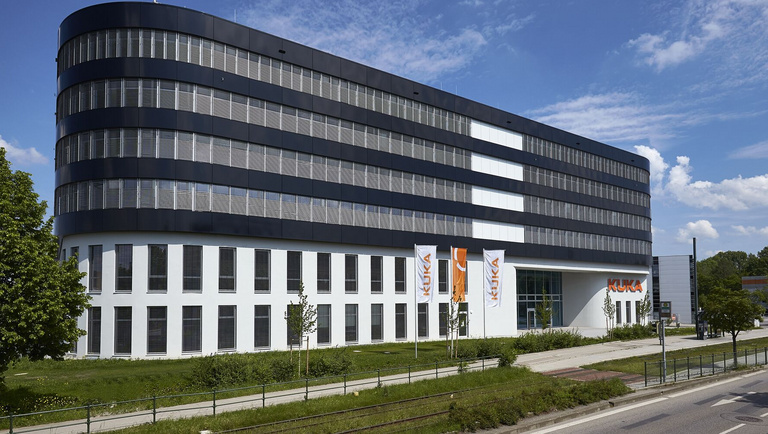 Success Story KUKA
Efficient projectcontrolling from start to finish
How Industry 4.0 pioneer KUKA has enhanced the efficiency of its complete project controlling operations
KUKA plays a central role on the path to Industry 4.0. The Augsburg-based automation specialist is one of the worldwide leading providers of intelligent automation solutions. In particular, the orange colored KUKA industrial robots have become icons of the modern era. However, the portfolio extends beyond this: from individual manufacturing machines and fully-automated production plants to driverless transport solutions and special process technologies – KUKA offers tailored systems to its customers from the automotive, healthcare, e-commerce, logistics, metal and plastic industries.
The development and manufacture of such machines and plant involves very specific challenges. Customer specifications have become increasingly more complex, rendering the general overview and comparability of the individual projects more difficult.
---

Clearly defined objectives
Consequently, in early 2019 KUKA began a program to achieve greater transparency regarding ongoing and successfully completed projects. This featured clear objectives: Not only were project margins to be increased, but also delivery punctuality and customer satisfaction. A further focus lay on how to make efficient use of resources, ensure the smooth running of work processes and avoid exceeding previously calculated project costs.
As a longstanding innovation partner, MHP also assisted KUKA with this project, establishing an efficient portfolio and project management process in just a few months.
Our solution consists of three essential approaches:
Uniform data basis
Analytical data processing
Information visualization
This ultimately resulted in SIRPCO – the Smart Intelligence Robotic Project Cockpit of KUKA.
The diverse benefits of our digital controlling solution
The cockpit enables modern real-time project controlling and includes multiple transparency enhancing elements. On the one hand, the portfolio dashboard provides an overview of all projects – including central milestones and a status traffic light. It notifies KUKA portfolio managers automatically and swiftly when a project is in a critical state.
In addition, the project dashboard supports project managers in making key decisions. Deviations from an individual analysis period and critical thresholds are directly visible. To enhance this, we integrated a Gantt project plan into the SIRPCO. The internationally proven PM instrument improves the overview of schedule objectives at KUKA and simulates potential deviations from target timelines.
To enable project managers to maintain a future overview of project budgets, the new KUKA cockpit will see a visualization of all cashflows – and in almost real time. This represents a genuine added value when it comes to maintaining planned calculations. Because in combination with the schedule overview KUKA project managers now have the ability to maintain an overview of all complex dependencies and interdifferences of a plant manufacturer with a strong portfolio, as well as guiding processes intelligently.
The KPI history function also aids evaluation: It delivers historical KPI data to help better evaluate the prospects for success of ongoing projects and analyze the outcome of decisions made more precisely.

Challenges of the project
In the course of the project, it proved necessary to tackle both technological and strategic challenges. For example, our IT specialists had to deliver initial project results in the shortest of times – both in the form of a concept for a stable and high-performing system architecture and with the development of calculation and monitoring engines. These allow the calculation of multi-layered financial, timing and performance key data according to mathematical algorithms as well as the monitoring of critical key data. Parallel to this, we ensured the automatic harmonization of customer project data and heterogeneous master data. This enabled the creation of a decisive basis for the better comparability of all projects. With the aid of our agile scrum methods, we were able to conclude these technical stages within the defined time schedule.
As is always the case with such far-reaching transformation, structured change management was called for. Here too, we supported KUKA, introducing the experienced project managers and departments to the new processes. The long-standing and trust-based partnership between KUKA and MHP meant that there was already a very good basis for the successful realization of this project, which was of critical importance for the company. The close cooperation between KUKA's project management office and MHP's specialists resulted in a fusion of knowledge and experience on both sides, which contributed to the efficiency of the project. Even during the ongoing project, improvements were achieved in the first plant engineering projects. "We immediately noticed in the first discussions that the MHP team understood what we needed. Thanks to clear targets and the intensive exchange between both teams, we quickly achieved our first results. This good cooperation continued until the end of the project", said Wilhelm Keppeler, Head of the Project Management Office.
Recognition with the Best of Consulting Award
With the new multi-project management process, it has proved possible to make the controlling of KUKA more holistic. The symbiosis of financial, time and quality key data now delivers a 360-degree overview of the ongoing project business.
Shortly after the launch of the cockpit a significant improvement was already measurable – with regard to both delivery reliability and product quality as well as gross profit. The fact that our controlling solution sets new standards has also been acknowledged with an acclaimed award: MHP was awarded 1st prize in the Special Prize for Digitalization at the Best of Consulting Award 2021 of Wirtschaftswoche magazine.
Congratulations to Oliver Kalka and his team, who landed the prize for us with the Smart Intelligence Robotic Project Cockpit project at KUKA. And many thanks to KUKA for the once again pioneering and trust-based cooperation. Cooperation that shines a light on our bold purpose: Enabling You To Shape A Better Tomorrow.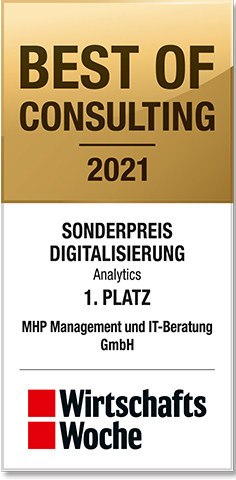 Voices
"Thanks to the longstanding and trust-based collaboration between KUKA and MHP the project could be implemented swiftly and successfully. Even during the ongoing project, it already proved possible to achieve improvements in the first plant engineering projects."
"We immediately noticed in the first discussions that the MHP team understood what we needed. Thanks to clear targets and the intensive exchange between both teams, we quickly achieved our first results. This good cooperation continued until the end of the project."