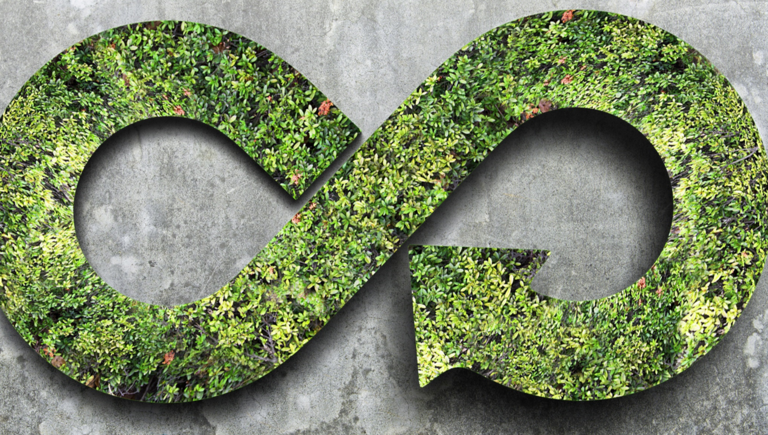 Blog
Published on: 19.07.2021
5:42 mins
Five Ideas for successfully transitioning to a Circular Economy
"Circular economy" was recognized as a core strategy for sustainable and profitable business way back in the 1990s.
These days technologies (in terms of innovative materials as well as digital concepts) are enabling the transition toward a circular and resource-saving economy. Finally, the theory is being transformed into practice.
To succeed, a comprehensive transition to a sustainable and circular economy requires that companies firstly rethink their activities, and recognize, understand, and accept the huge opportunities that this represents. This change in mindset must then culminate in targeted and significant changes to business models, value-creation chains, and working methods. Such changes must also establish the conditions for using data consistently and effectively.
In this blog, we offer five ideas that summarize the basic requirements for making this transition a success.
1. Circular Business Model: How to Successfully Position Your Company in Future Markets
Sustainable and circular business models are gaining in importance and prompting companies to care about improving their impact on the three pillars of sustainability: profit, people, and planet. For a successful transition, companies must transform their traditional linear business models into circular business models. When implemented correctly, a circular business model offers more than just cost savings: It also maximizes the utilization of products and materials, and creates new revenue opportunities.
The availability of resources is essential for our long-term prosperity, yet growing demand worldwide for raw materials increases their scarcity and drives up prices. A circular business model massively reduces our dependence on fossil resources. Business models need to be developed with a view to creating sustainable, closed-loop resource cycles.
Consumer behavior is changing due to an increasing awareness of climate change and sustainability. With this in mind, companies can get ahead of their competitors by implementing a circular business model since it signals their commitment to being more sustainable, taking responsibility for their products, and being transparent.
Companies can also benefit from better cooperation with suppliers and other partners beyond their normal circle of contacts. To do so, companies must examine and evaluate their supply chains, prioritize initiatives, and then formulate a comprehensive circular economy strategy. Changes to each link in a supply chain can impact all upstream and downstream areas and offer benefits for all stakeholders.
2. Digital Circular Economy: Using Digital Technologies as an Enabler
Digital technologies are increasingly seen as a crucial enabler for sustainable management and a circular economy. Closed digital loops enable consistent and continuous learning based on the way that products are utilized. Within these loops, data informs a "learn and adapt" approach to improvements and updates to products in all phases of their life cycle. For example, these loops enable the useful life of products in the field to be extended by means of updates or repairs, the correct time for "second life" (reuse) approaches to be identified, and the knowledge gained to be fed back into innovation, design, and production. Using data in the innovation and design phase increases the reusability of components and raw materials (remanufacturing and recycling). The findings can be continuously used to improve products (and services) and to generate ideas for new products (such as new variants or completely new portfolio segments). Data is always at the heart of any closed digital loop, particularly those based on cloud technologies. Data is therefore the cornerstone of a fully functional digital circular economy.

3. Digital Circular Design: Smart Product Design Has to Be Circular
More than 80 per cent of the environmental impact of all products is defined in the design phase, making this a key phase within an effective circular economy: Products and their components or materials must be designed to be reused and recycled.
This circular approach requires design standards to be overhauled and redeveloped. Established principles such as "design to cost" must be supplemented by the "design for R" principle associated with a circular economy. The "R" represents the different approaches for reclaiming value from a product (reuse, repair, remanufacture, recycle). The aim of the "design for R" principle is therefore to design products in a way that allows as much value as possible to be reclaimed from the product as a result of the design itself, the materials used or the technologies associated with it (i.e. during production, updates, dismantling, etc.)
The benefits of smart product design include reducing dependence on finite primary raw materials, improving material efficiency (e.g. by using modular constructions to make it simpler to disassemble a product), and building resilience to price fluctuations in supply chains.
All "design for R" approaches combine the need to rethink existing product development principles with a strategy for how a product can contribute to a circular economy.
4. You Can Only Measure What You Can Measure
One of the best ways a company can accelerate its transition to a circular way of working is to offer incentives for customers and suppliers, and especially for employees. A comprehensive target-setting framework that covers products, processes, and data is therefore the first step toward this transformation. With the help of this framework, the topic of sustainability becomes an integral part of the company's activities.
The transparency created by this mindset makes it easier to introduce the most suitable metrics for measuring the company's sustainable transformation. A key factor here is the availability, accuracy, and topicality of the data in use: Establishing new data sources, adapting existing ones, and recovering data from the field are often necessary in this respect. The data obtained using these methods can be used in several ways to optimize all value-adding activities. A closed economic loop must be underpinned by a closed data loop since this is what enables evidence-based development of products and services (via digital closed loops – see above). The increase in transparency and focus on customer-centric product optimization that companies gain from these closed loops has a notable side effect: an increase in employee satisfaction and customer loyalty.
5. Enable New Ways of Working
Numerous studies show that employees identify more strongly with their company when it acts responsibly, understands its environmental impact, and tries to be transparent. Prioritizing environmental issues is therefore an intrinsic motivator for employees. Companies that implement tangible measures to own their corporate social responsibility and build their reputation as environmentally conscious and sustainable organizations can improve employee satisfaction and their organization's appeal as an employer. Environmental issues are increasingly being considered within innovation processes too. A supportive "climate" is important for any innovation and includes management support plus a clear vision that encourages employees to participate and contribute new ideas. Companies that challenge and promote the creativity of their employees are better placed for those employees to question existing linear structures, processes, and workflows, and transform them into circular working methods.
Cooperation across different departments and functions ultimately leads to information being exchanged, skills being transferred, and a new culture being established. Going one step further to involve circular economy experts is a simple way to ensure that existing knowledge is utilized, that circular concepts are considered at an early stage of process and product innovations, and that circular business models are prioritized. An increased capacity for innovation plus the commitment to transition to a circular economy are mutually beneficial for any company. Finding a way to use important resources, such as energy and materials, in products and processes in the most efficient way is a good example.
There are several different ways to design a circular economy, all of which offer huge benefits for profit, people, and the planet. We hope you have been inspired by these five ideas for initiating a circular innovation process and business model.
Here's a simple question that you can use as the starting point for your company: "What would you do differently today if you had to take back all of the products you sell after they had been used once?"