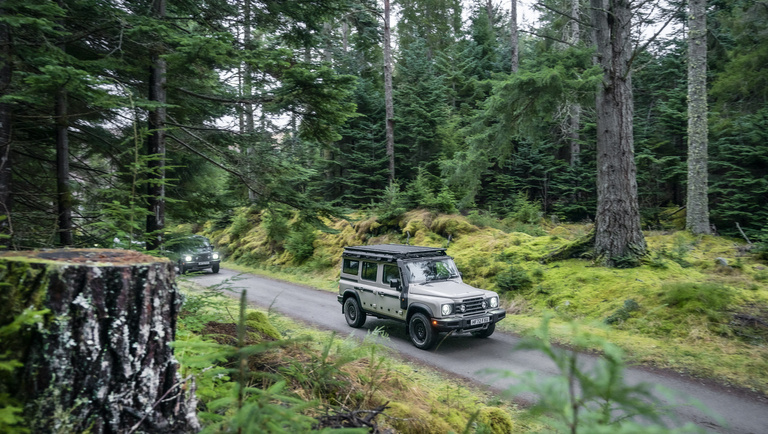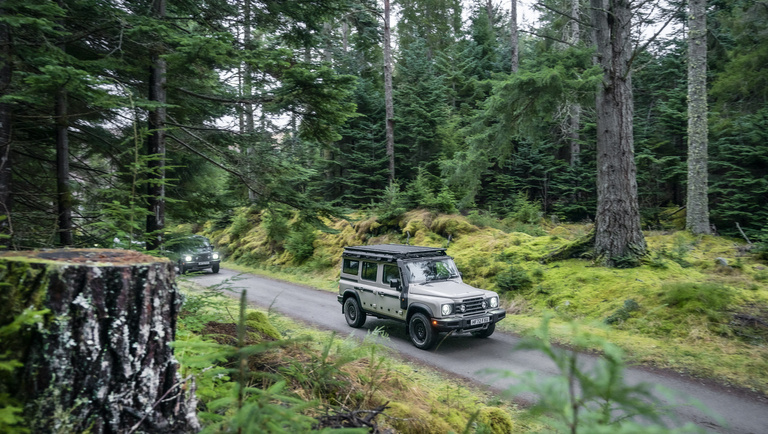 Immersive platform for INEOS Automotive
Revolutionizing car purchases: INEOS and MHP unveil advanced interactive off-road configurator
INEOS Automotive, a startup founded in 2017, worked with MHP to introduce a configurator that would allow their customers to configure and purchase the 4x4 off-road vehicle Grenadier from the comfort of their own home. By using an immersive platform based on Microsoft Azure, the two companies brought the idea to life with the utmost success.
In this article, you'll learn more about how the configurator was developed to be part of a unique online sales journey, and why virtual and augmented reality could soon become a must-have for auto makers

The challenge: The trend towards personalization and multi-channel sales
The days of standard options are over: In the past few decades, the trend for 4x4 off-road vehicles has clearly shifted towards personalization. That makes it increasingly important for manufacturers of all-wheel-drive vehicles to give their customers a personalized customer experience—one that aligns with the particular product and brand.
Along with the increasing demand for personalization of the car itself, a multi-channel sales journey also plays an important role for emerging automotive brands. That makes it essential for brands to combine online sales and in-store solutions to create a convenient buying experience for customers across all channels.

The goal: Development of an immersive vehicle configurator
"Virtual perfection that captivates customers" was the motto of the cooperation between INEOS Automotive and MHP. Their goal was to develop an immersive vehicle configurator—one capable of selling a rugged off-road vehicle that was not yet available on the market.
​​In their work as management and IT consultants, MHP has developed real-world expertise with the Unreal Engine and has also gained experience in using virtual configurators to drive sales. This was the perfect basis for their work with the up-and-coming off-road vehicle startup.
MHP's vehicle configurator was designed to let INEOS Automotive show interested consumers a virtual version of their vehicle that is so convincing that they purchase it immediately—without having seen the 4x4 off-roader or taken it for a test drive.
The approach: A revolutionary configurator
By offering their customers an end-to-end online platform based on Microsoft Azure, INEOS revolutionized the sales process by uniting the multi-channel sales approach with the demand for personalization.
The platform offers an innovative, cutting edge experience: a 3D-rendered virtual off-road vehicle, presented in a sales-focused manner. The API-first design creates a top-notch online shopping experience.

The implementation: Elastic Content Platform and 3D visualization
How can a virtual model convince customers to buy? To generate a realistic version of the INEOS products, MHP integrated their Elastic Content Platform into their project with INEOS Automotive. The platform uses 3D product data along with the configurator logic from SAP Systems to render 3D video streams or images.
The best part? The images don't need to be pre-rendered. The Unreal Engine, created by the award-winning games publisher Epic Games, makes it possible to automatically render high-resolution product images for every configuration in just a few milliseconds.
As potential customers configure their personalized Grenadier, Unreal Engine delivers product images and video streams on the fly—all on the basis of Microsoft Azure.
This cost-effective solution allowed INEOS Automotive to create realistic product images of a vehicle that doesn't actually exist yet—which sets a new milestone in the development of SUVs and off-road vehicles.

Key performance indicators: The results in data
The numbers speak for themselves: The day the configurator was launched, daily website traffic reached a new record high. INEOS Automotive simultaneously celebrated a new record for the number of vehicles reserved in a single day. The British car maker received 15,000 reservations for Grenadiers on the first day after the launch.
The configurator had an immediate positive effect on turnover and KPIs. The following KPIs reflect the success of the cooperation between MHP and INEOS Automotive:
Generation of a multitude of dealer leads
Record number of unique visitors on one single day
Increase in average session duration
Increase in the number of configurations
Return of the unique visitors
Impact on the automotive industry: Is this the new standard?
Personalized customer journeys are becoming increasingly important in the world of commerce, which has led to an increase in the number of virtual reality and augmented reality solutions. Customers can learn more about the product at any time from the comfort of their home, without needing to worry about opening hours or traveling to a dealership. Product development configurators can be cost-effectively developed and implemented, ensuring that a brand's sales increase—along with customer satisfaction. This means that configurators could soon play a major role for all auto manufacturers on the path to creating an innovative customer experience.
As a result of the major impact this project had on the entire automotive industry, the use case is on display as its very own showcase in the Microsoft Experience Center in Munich, showing how the automotive world will delight its customers in the future.
A ground-breaking innovation in the automotive industry
The cooperation between MHP and INEOS Automotive resulted in an innovative solution that makes it possible to create realistic images of a vehicle that has not yet been built.
Always a step ahead: At MHP, we incorporate immersive technology like smart virtual reality and augmented reality applications to create an utterly cutting-edge, content-based, data-driven, end-to-end sales platform with excellent consultation and closing abilities—even for complex products.