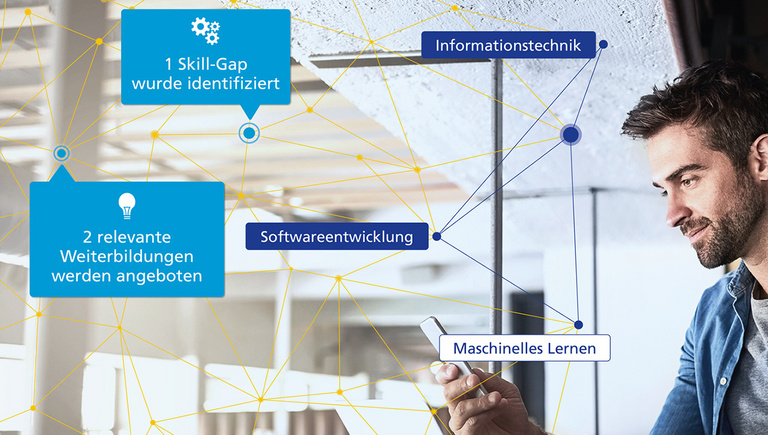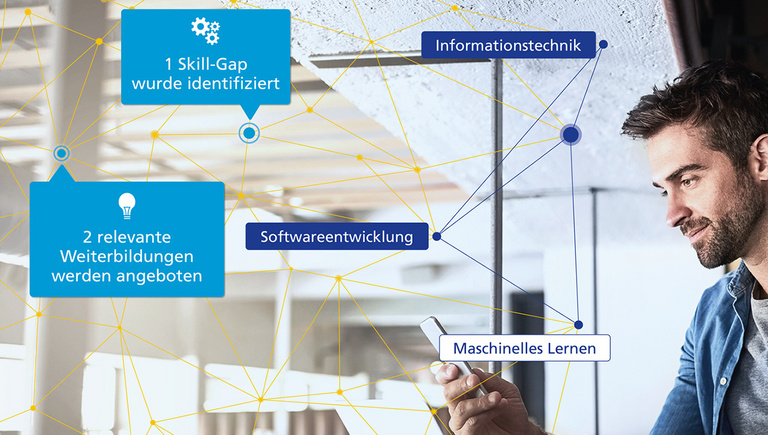 SkillMatching
Markets and people are changing. And at an ever faster pace. Digitalization is increasing the speed of daily business in many companies - and certainly in yours.
Identify all skills - and connect them correctly
Some of the biggest challenges: How to quickly and accurately find the employees that a project really needs to be successful? How do employees independently recognize which trainings advance their careers? Which colleagues enrich their professional network? And does an employee already fit a new vacancy?
At MHP, we offer you the perfect digital solution for all these questions: SKILLMATCHING.
Our intelligent tool uses a unique skill graph and machine learning to ensure the exact fit between job requirements and employee skills. At the same time, Skillmatching shows your company and your colleagues which skills are currently needed. This allows you to counteract personnel bottlenecks with training at an early stage.
Skillmatching is a convincing solution: Several German OEMs from the mobility and manufacturing sectors are already working with our tool. Get the full skills overview - in real time, objectively, dynamically and flexibly integrable.
---
Automatic skill extraction
From existing job descriptions, Skillmatching automatically extracts relevant skills in a way that goes far beyond keyword matching.
The Skillgraph is the intelligent heart of Skillmatching. It bundles more than 1 million different skills and establishes semantic relationships between them. Another strength: The Skillgraph continuously expands by searching public and internal data sources such as job descriptions, CVs, or social networks and automatically extracts new skills and sorts them into meaningful proximity to other skills. This is how easy HR 4.0 is.
Ideal staffing
Skillmatching automatically finds for your recruiters the optimal internal employee match for your vacancy.
Make it easier for your recruiters, team leads and project managers to find the right talent. Simply upload the job description to Skillmatching and our tool will do the rest for you. What's more, you can identify skill gaps in good time. Especially in transformation and change processes, this information is extremely valuable to stay competitive in the future.
Personal Match List
Your employees benefit, too: Skillmatching provides them with an overview of current jobs and projects that match their personal skillset.
In addition, it becomes clear at a glance which additional skills are essential and should be supplemented with targeted training. In this way, your employees can plan their next career steps individually in just a few clicks and at any time.
Self-generating data analysis
Skillmatching learns autonomously and delivers conclusions about all skill potentials of your company.
Our Skillmatching database continues to learn itself: Using a machine learning system, it analyzes all new and existing data. It independently recognizes and expands semantic connections between different skills - even those that are not directly mentioned. As a result, the skill graph becomes increasingly meaningful for your company and your employees. 24 hours a day, 365 days a year. By analyzing the data, recruiters can also easily draw conclusions about further skill potential in your company - for example, through actual and target skill evaluations.
What makes SkillMatching the perfect sparring partner for HR issues
High-quality and intelligent skill analysis that recognizes correlations and finds real matches where simple keyword matching reaches its limit
Self-learning skill graph provides intelligent and objective matches between employees, projects and open positions
Significantly faster and more time-efficient recruiting; qualitatively improving the entire recruiting process
Comprehensive insight into the potential of your employees
Employees can identify new job opportunities and find interesting projects that match their current skills - on this basis, they can proactively develop themselves further
Professional and personal development opportunities are highlighted - supporting your employees on their individual career path
Innovative integration concept with open interfaces for cloud applications
Personal demo
Ready for a match with the future? Try out Skillmatching!
Your contact
Christian Frahm

Associated Partner