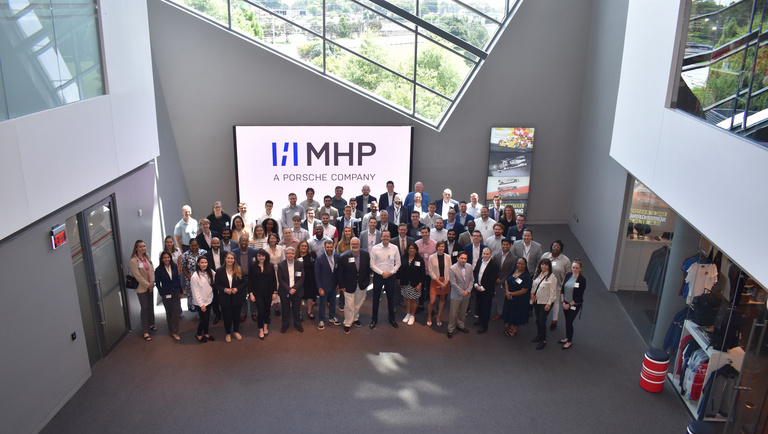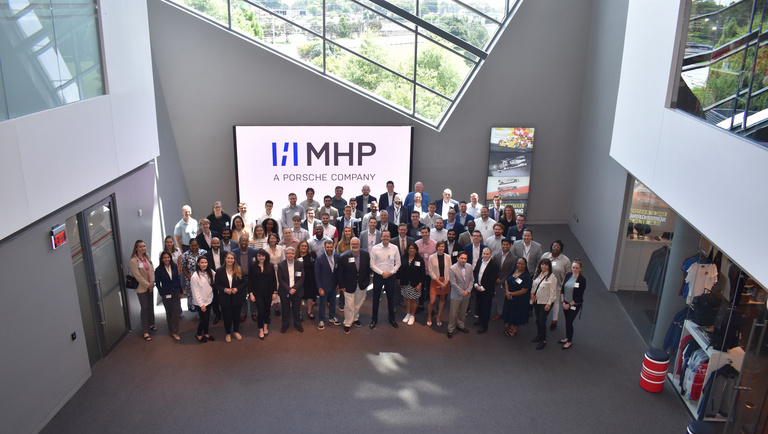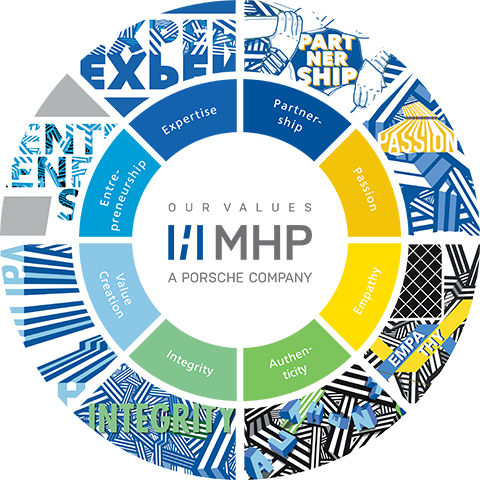 One for all and all for one. That's the MHP Spirit.
We're much more than a leading management and IT consulting company: MHP is also a place where you can change the world with us – our customers' worlds at least.
There is no need for formality here. The MHP Spirit is about working together in a relaxed way with no red tape and treating each other as equals without the need for hierarchy across any part of the business. We are a team and we behave like a team. Another benefit of working at MHP is the opportunity to experience the dynamism and flexibility of a growing company. Our employees take on responsibility right from the start and receive support tailored to their needs. You can actively help to shape our corporate culture and make it the perfect breeding ground for new ideas and entrepreneurial thinking.
Everything we do is based on our commitment to excellence – both internally and externally. For us, excellence means focusing 100 per cent on the needs of our customers and employees and basing everything we do on eight strong corporate values.
Embodying Values in Our Work – Code of Conduct
It is our values that shape MHP. But how do they really affect our daily life given that some of our work happens on-site and some remotely? Our Code of Conduct provides our employees with answers and suggestions. As you would expect, it is continuously updated to reflect our ever-changing world.

Diversity & Equal Opportunities
Diversity is one of the defining features of life at MHP. Our purpose "Enabling you to shape a better tomorrow" is all about diversity – our employees' diverse experiences, diverse opportunities and perspectives, the diverse customers and partners that we support. Diversity makes us successful.
Our approach is to develop together by supporting and encouraging each other from all perspectives and at all levels. Here at MHP, you can forge a unique career path, one that fits your current and future skill set and situation.
Celebrate diversity: We support and inspire each other. Together. Every day. As equals.

Glassdoor
Every opinion is important to us, whether it's held by employees or applicants – and we take feedback to heart. Get an authentic insight into what it's like to work for us locally and around the world.
Connect with the MHP world. We work out of more than 16 offices. Every door is open to you, whether you're based in Germany, the USA, the UK, China or Romania.
Better Normal & Flexibility
Our "new normal" is a hybrid: a combination of on-site and remote working. Wherever you are most productive.
For us, the "new normal" means two things in particular: more flexibility and more people. If you wonder why some people enjoy their work and others see it as a burden, there are three things worth considering: motivation, values and culture. We believe that authentically embodying our core values and focusing on people above all else is the only way to build a successful and future-proof working environment – and in doing so create an atmosphere that fosters not only a new normal, but also a better one.

Onboarding & Team-up
The first impression counts - also for your start at MHP. With our onboarding event, the MHPStarterDays, we offer a unique experience and a warm welcome.
The onboarding days take place during your first week of work at MHP and are common to all new joiners, no matter at which level or field of competence you join. We currently offer the ability to join us virtually or on-site.
During your first few days we will answer all your questions, but we also think it's incredibly important that we introduce you to our culture and values, our organization, processes and all the other things that make MHP unique as soon as possible. After the MHPStarterDays, your team and your supervisor will take over.
You will be prepared perfectly for an excellent start at MHP.