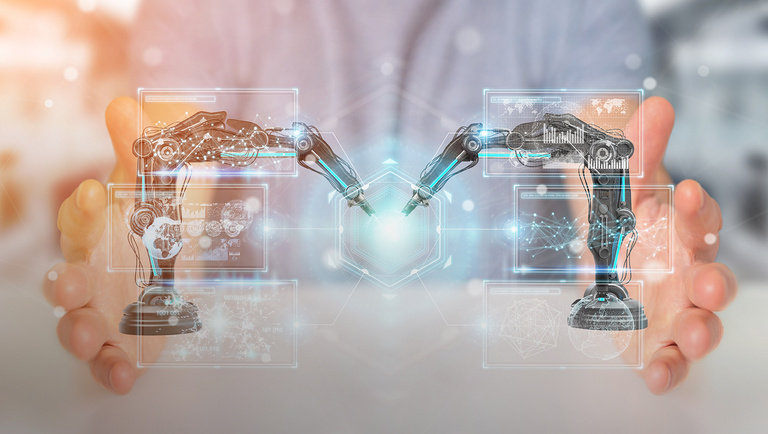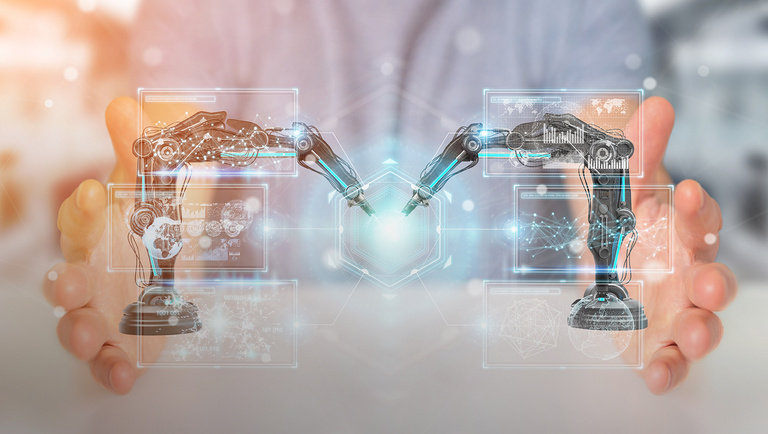 Intelligent Automation – For Your Digital Strategy
A holistic approach to intelligent automation of business processes.
Automation of business processes as the basis for optimally implementing your digital strategy.
Innovative and intelligent solutions for comprehensive process optimization are the key to market success in the future. Intelligent automation offers an ideal solution approach here.
What makes the principle of intelligent automation special is its holistic end-to-end concept: A wide variety of tools – from robotic process automation to process mining to AI applications – are intelligently linked (hyperautomation). From strategy to hypercare.
Our competencies
Process mining
Companies today face a multitude of challenges: complex IT system landscapes, large quantities of data, and opaque process flows. Process mining with Celonis allows you to achieve a whole new level of transparency to understand how your processes are actually running.
As MHP, we can point out the right optimizations with our comprehensive process expertise. The Celonis execution management system is a powerful tool for implementing and monitoring these optimization opportunities, including process automation.
Robotic process automation
Robotic process automation (RPA) gives companies the opportunity to automate processes that were previously done manually, easily and in the shortest possible time. This means more and more highly repetitive standard processes are being carried out by software robots, giving employees space and time for innovative projects.
MHP offers a complete range of available options to provide your company with the perfect solution for your individual situation. From attended bots to hybrid and unattended bots – from RPAaaS to cloud and on-premise solutions – from UiPath to Automation Anywhere. Our process automation specialists will provide you with competent support.
Digital assistance
Customers expect information to be made available immediately, regardless of time and location. Across different industries and specialist areas, MHP makes it possible to satisfy this need with digital assistants and thereby automate a wide range of tasks in the context of hyperautomation. These digital assistants have human-like conversational capabilities and are designed using personality traits. They function via voice and text input and output and are available 24/7.
Document understanding
In many areas of a company, documents are produced in paper form – invoices, delivery bills and letters are just a few examples. Although documents can be digitized as image files through scanning, they cannot easily be made machine-readable to extract relevant information. This is where OCR comes in: letters are recognized in the images and automatically processed into words and sentences. This can accelerate processes meaning valuable human resources can be efficiently deployed in a targeted manner.
In combination with NLP, information can be processed automatically through hyperautomation and decisions can be derived directly without human intervention. Possible use cases are tools for automated invoice verification and goods receipt posting.
Intelligent process automation
Intelligent process automation (hyperautomation) is a combination of various intelligent building blocks with RPA technology as the executing basis. The comprehensive solution toolbox for process automation can reduce costs and at the same time increase predictability, efficiency and quality.
It enables the range of tasks for RPA solutions to be expanded to include processes for which a certain level of intelligence is required and which cannot be implemented by RPA alone.
Strategic partners we work with in the Intelligent Automation sector
MHP enhances its service portfolio with strategic, trustworthy and sustainable partnerships for maximum added value for our customers. The strategic MHP partner network includes regional and global companies spanning technology providers, institutions, associations and startups. This enables us to offer our customers holistic skills in the vertical integration of consulting, from strategy and management consulting to system integration and software development.
Your contact
You would like to learn more or would like a consultation on the topic?
Patrick Meyer

Associated Partner