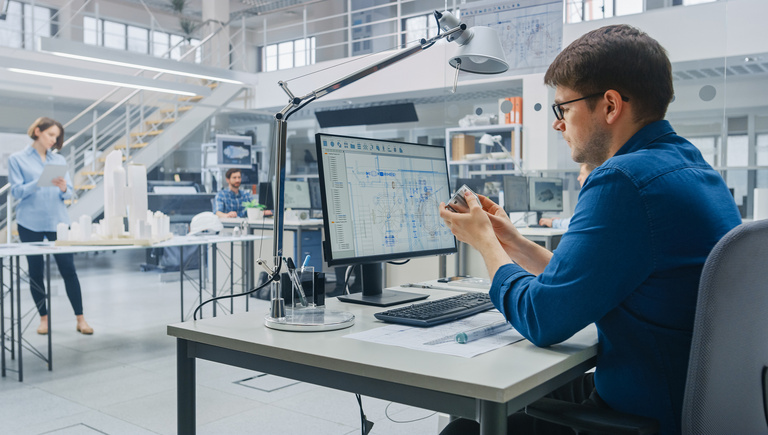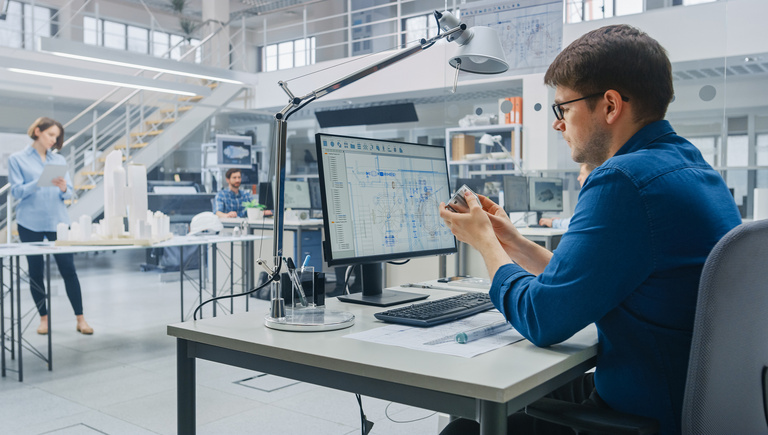 Future Product Creation
As a leading business and technology partner, we optimize your engineering value chain across all processes.
With our management and IT know-how, we have been supporting our customers sustainably and efficiently in their transformations for over 25 years.
The development of innovative and successful portfolios of products and services is one of the central and most complex tasks of any company.
The transformation of innovations and ecosystems in product development to new business models, processes and collaborative networks creates new challenges and opportunities for the success of your company.
Our competencies
Mastering innovation!
Uncertain and volatile markets, technologies with exponential growth rates and shorter product life cycles due to digital transformation require a different mindset to stay relevant and sustainable as a company.
What does this mean for innovation from a venture capitalist's perspective?
Accepting failure. On average, less than 1% of startups actually become unicorns.
Limit risks. View innovation as a call option on future performance, to fail early and controllably if necessary.
With the MHP "innovation sprint approach", we have firmly anchored this perspective of a venture capitalist in our service as well as used it variously and successfully with our clients. In that way, we also guarantee a secure risk limitation for your company and an increase in your innovation success.
Systems Engineering
Increasing individualization, different development and life cycles of software, electrics and hardware, and new regulatory requirements: The engineering value chain has become increasingly complex in recent years, presenting companies with major challenges. An end-to-end, integrated and transparent digital development architecture based on Model-Based Systems Engineering (MBSE) offers the best prerequisites for mastering this complexity. This enables an efficient diversification of your products and services and secures your future innovation and competitiveness on the market.
We enable you with our expertise in the successful transformation from the "as is way of working" to the "future way of working". With our end-to-end expertise from strategy to implementation, we generate sustainable added value for your company.
Systems Integration
Constantly growing importance of digital services, networked components and safety-relevant software make vehicles a highly complex product. We support you in implementing the major mobility trends. In doing so, our team of MHP experts offer comprehensive know-how for the design, development and integration of new connectivity solutions - from 5G networks for vehicles to car-to-X communication via all wireless technologies.
Architectural co-development of over-the-air (OTA) technologies, end-to-end developments of digital services (inside and outside the vehicle), and adaptation of technical platforms enable new services and data collection for Future Vehicle Generation use cases. With our cross-departmental functional responsibility in ideation, conception and operational development as well as responsibility for complex ECUs and supplier control, we are your reliable partner for software/hardware and digital services.
Data Driven Engineering
The development of smart products requires the coordinated interaction of mechanical, electronic and software components. The various development cycles take place in the physical world and increasingly also in the virtual world.
High-quality and up-to-date data form the common basis for this complex development landscape. Thus, they enable the smooth interaction of the different development areas and teams and form the basis of any digitization.
MHP has years of experience with the organization and processes of product development. In combination with the opportunities offered by modern IT technologies, we generate a unique consulting approach for your future product creation.
New PEP
Disruptions, regulatory pressure and new value creation structures present companies with major challenges in product development.
That's why the goal of our "New PEP" approach is to work with you to make your product development process more agile, faster and more digital in order to react flexibly and efficiently to disruptions and changes.
MHP's "New PEP" approach focuses on your company. Your requirements are taken into account throughout the entire process to enable customer-oriented products and business model innovations for you.
Optimized process planning and launch with multi-speed, traceability and compliance: in our model-based, data-driven "New PEP" approach, we generate a digital twin of your structures and processes and create continuous improvement through data-driven feedback loops until product launch. Through tailored processes to strengthen collaboration and circular economy, we ensure efficient, sustainable use of resources throughout your lifecycle.
Launch Management
Many product developments stumble shortly before the "finish line" of series production. The reasons for this include the increasing complexity of smart products, high variance, and uncertain value streams. Deadline delays, quality losses, unplanned additional costs or even lost sales/unit sales are frequent consequences and can be avoided through optimized management of the product ramp-up.
MHP supports you in setting up an agile launch management system. This orchestrates all the business units and suppliers involved in the run-up to the SOP - and tailors it to the respective product range.
We bring critical topics to the point in a way that allows decisions to be made, accompany the definition and processing of measures, and establish reliable maturity and risk management for you. Our experts not only provide methodological support, but also offer technical and content-related expertise in the actual product launch.
Strategic partners we work with in the Future Product Creation sector
MHP enhances its service portfolio with strategic, trustworthy and sustainable partnerships for maximum added value for our customers. The strategic MHP partner network includes regional and global companies spanning technology providers, institutions, associations and startups. This enables us to offer our customers holistic skills in the vertical integration of consulting, from strategy and management consulting to system integration and software development.
Your contact
You would like to learn more or would like a consultation on the topic?
Paul Prehl

Associated Partner