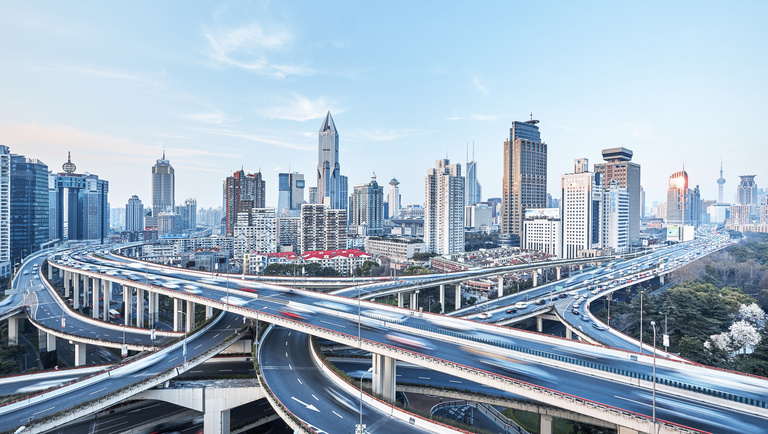 Blog
Published on: 18.08.2022
3:20 mins
Smart and livable to the city of the future
The Intelligent City Performance Platform
The time is now: Cities must be set up with digitalization and sustainability at their core to achieve climate goals and be attractive as places to live.
Our cities are plagued by congestion, high levels of pollution, traffic-related emissions, and inefficient transport. In addition, more and more companies are withdrawing from urban areas, making cities less attractive as a place to do business.
But all is not lost: Urban administrations often have access to data that could eventually transform cities into sustainable locations worth living in. The challenge is the fact that the digital services used to collect and manage this data are often implemented as standalone solutions. And it is not just the disconnected silos of data that becomes a problem with this approach. There is also no strategy for integrating the individual services or utilizing them in other ways – all these interfaces of urban life remain largely unused.
This is where MHP's Intelligent City Performance (ICP) platform can help.
Results of an international study show a clear demand for smart city concepts.
A research conducted by MHP and German publisher Motor Presse Stuttgart in 2021 indicates that all relevant stakeholders (cities, companies, and citizens) can see clear added value in ICP services and are also willing to invest in or pay for these services:
Almost 70 per cent of the cities involved in the survey believe that integrated smart city platforms like MHP's ICP platform are a useful tool for achieving their climate and sustainability goals, andgoals and would regularly invest in such platforms.
Businesses can primarily generate added value through horizontal integration of different services via a central platform.
The study indicates that 70 per cent of citizens are willing to spend one or two euro per month to use a single platform.
A top priority for citizens is searching for and finding parking spaces in their city. Being able to use single sign-on for all services is another example of added value for citizens.

ICP is a digital hub for the sustainable services offered by B2B partners and urban administrations for the citizens of a city.
The aim of our ICP platform is to offer an open-source, neutral platform that enables cities and companies to jointly develop use cases that have a direct impact on a city's climate and sustainability goals. We integrate the data already collected by cities and companies, and supplement it with any information that is still required based on concepts from within the partner network.
One goal in mind: We help cities to achieve their climate and sustainability goals through partnerships.
Using their strategic KPIs as a guide, the platform gives cities a way to manage climate and sustainability actions based on AI methods, monitor their effectiveness, and benefit from best practices in the ICP city network. For this purpose, previously unconnected data sources and services are integrated, creating an open ecosystem of digital services from globally and regionally active companies and cities.
The ICP platform becomes a digital hub that functions as a marketplace for company and city services in the urban ecosystem.
A successful pilot with the ICP platform is already underway in Leipzig.
Sustainable use cases with a verifiable impact and specific actions create tomorrow's cities that are worth living in.
The ICP concept identifies sustainable, intelligent use cases that can be continuously adapted to regional goals:
For example, the ICP data integration allows parking spaces ("Parking + X") and charging points ("Charging + X") to be established as a service and mobility hub; traffic and mobility behavior can be intelligently influenced using sensor data on air quality as a form of emissions-based mobility management system. In addition, underused parking spaces and charging points can be better utilized thanks to value-adding services such as interconnected public transport, delivery services, and the ability to reserve parking spaces. These services help to reduce urban traffic and incentivize intermodality, as well as making a measurable contribution to decreasing emissions, preventing traffic problems, and promoting digitalization at a regional level. All these actions ultimately improve citizens' quality of life in urban areas and make cities smart and worth living in – now, and for future generations.
Our services for the urban ecosystem: Benefit from our network and expertise.
In addition to our cloud-based platform, we offer incubation services as part of our ICP Consulting package. We advise cities on use cases, B2B data integration, market analysis, and ICP implementation.
What we offer: A Smart City Check (SCC) to determine the digital maturity of your city.
Are you interested in finding out how much progress your city has already made on becoming a smart city compared to other cities in Germany? And how far the technical requirements for your digital transformation have already been developed? Then take our "Smart City Check"!
You would like to get more information about our ICP platform? Watch our presentation from the MHPFESTIVAL to learn how the ICP platform is already being used in our pilot city, Leipzig.