The linear economy that has been the norm up to now has far-reaching consequences for people, the environment, and the economy. In particular, the uncontrolled extraction of primary raw materials associated with the linear economy is to blame for numerous negative developments. Extraction not only causes scarcity of and dependency on raw materials, but it also accounts for 90 per cent of biodiversity loss; causes 50 per cent of greenhouse gas emissions and accelerates anthropogenic climate change. In this respect, the solution envisaged by the European Commission in the 2020 Action Plan - which forms part of the Green Deal – makes sense. Economic growth needs to be decoupled from resource use and there will be a paradigm shift from a linear to a circular economy throughout Europe.
The circular economy debate rages on but implementation is stuck in a rut
Lack of awareness is not the issue. As early as the 1990s, it was clear to players in politics, society, and the business and scientific communities that there was no way around a transformation. Despite this, even after the publication of the 2020 Action Plan, fundamental issues are still being debated. The urgency is emphasized, the benefits are clearly outlined but not enough is being said about how to achieve a comprehensive transformation in a way that is methodical and economically viable. This should change quickly.
From awareness to tangible implementation
At its heart, a circular economy is a regenerative and resource-efficient economic system that is based on natural material cycles. It respects the use of raw materials within planetary boundaries, avoids harmful emissions and if necessary, eliminates them. Current implementation strategies are based on initial management hierarchies of the German circular economy, the three Rs: Reduce, Reuse, Recycle. In terms of product design, approaches have evolved on hierarchies of up to ten levels. Approaches such as Rethink, Repair, Remanufacture or Repurpose have been integrated. However, this alone is not enough for a far-reaching circular corporate strategy. A circular economy involves taking a comprehensive systems view and maintaining a positive overall impact on society, the environment and the economy. Measuring performance, processes and environmental impact is far more meaningful than implementing action hierarchies. The problem is that there are isolated indicators that provide information about individual circular company activities, but these indicators are not holistically focused in the product development process. Since 80 per cent of the environmental impact is already determined at the design phase, there is significant potential for action here. Systems engineering can help realize this potential because verification and validation are key elements of this approach.
What exactly is systems engineering?
Systems engineering is a transdisciplinary product development method that has been used since the 1950s. The various disciplines – mechanical, electrical/electronic, software and other disciplines – work closely together to achieve a comprehensive understanding of the system, master complexity and increase traceability and transparency. All this results in the successful development of complex technical products, including their use and decommissioning.
In contrast to other product development methods, systems engineering focuses on breaking down a complex overall system into structure, subsystems, and system elements. After this decomposition, individual elements are successively reintegrated into an overall system. Systems engineering is therefore characterized by a structured approach – from requirements management through system architecture design, analysis, and simulation to handover.
In addition, systems engineering incorporates the needs of stakeholders and customers at an early stage. Required product functionalities and requirements are therefore defined in the development process and supported with tangible goals. At the same time, the previously defined product and system requirements are checked throughout the entire product development process by means of meticulous validation and verification after each process step. Two factors are fundamental for systems engineering: systematic thinking and process models.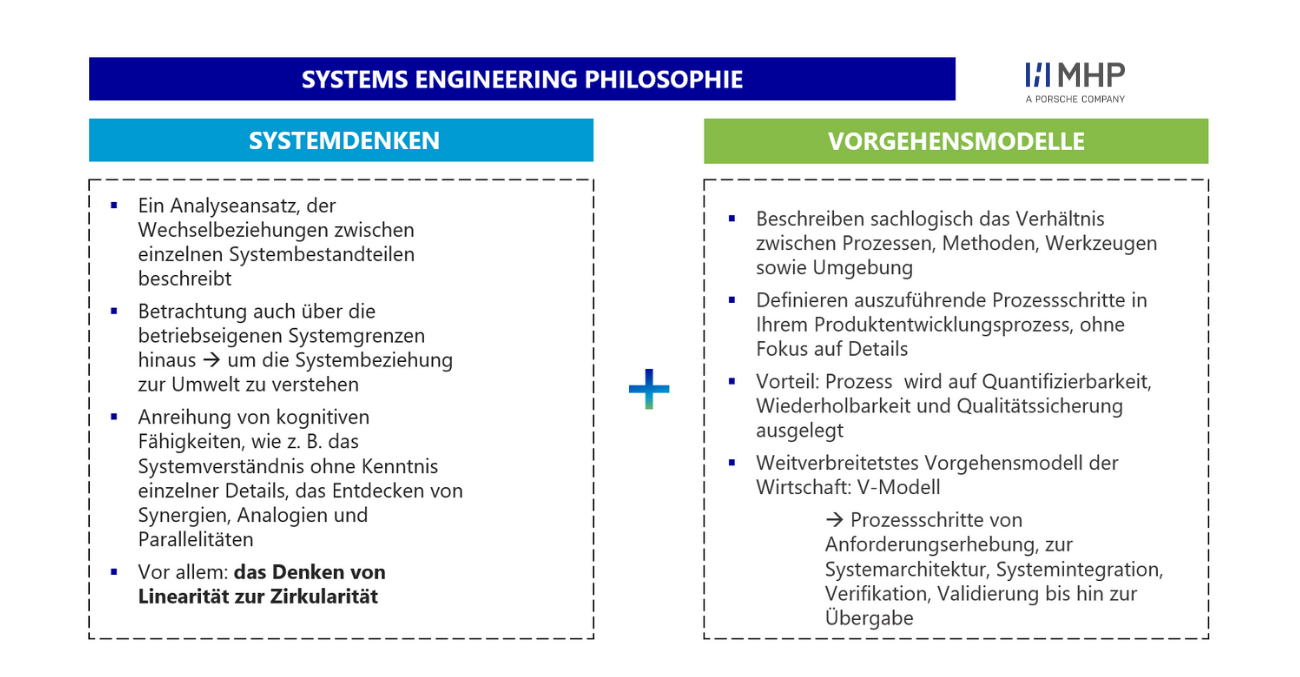 Circular economy and systems engineering go together
The circular economy is a complex sociotechnical system and systems engineering is compatible with these systems – in other words, they go together. For the most part, the methodology includes all the necessary tools and modeling languages for the far-reaching implementation of a circular economy. However, systems engineering has so far been designed for linear product life cycles, so they need to be adapted if they are to become circular. The systems engineering manual according to INCOSE provides various options for tailoring processes based on ISO standard 15288. According to this, the difficulty with implementation is a lack of knowledge about sustainable application techniques and indicators in the discipline itself.
The following aspects need to be adapted:
Stakeholder identification
Extension of the system boundaries for circular economy
Circular product requirements within the meaning of the R principles
Architecture for the implementation of the R principles
Validation and verification using established circular indicators such as material input per unit of service (MIPS), reuse potential indicator, life cycle analysis (LCA), substitution rates, sales of new maintenance packages
Circular business models, processes and the digital product passport are also topics that must be anticipated in systems engineering. As a logical consequence, the decommissioning phase must be adapted to the circular economy and thought out in a circular way so that materials are returned to the cycle.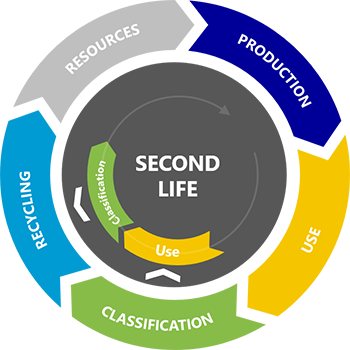 Enabler for a Circular Economy
Through targeted tailoring mechanisms, systems engineering can become an enabler for a circular economy. Of course, systems engineering is far from being the only solution approach. Nevertheless, it is a method that uses systems thinking and integrative process models to provide the basis for particularly far-reaching and accelerated implementation. The reason for this is the comprehensive level of detail and verification, which extends holistically over the product lifecycle.
Let us overcome the "implementation coma" of the Circular Economy, regardless of which method you choose. Together we can put approaches into practice - for a Better Tomorrow!