Happy Birthday MHP! We're looking back on 25 successful years in management and IT consulting.
During this period, we've spent a lot of time helping our customers to optimize their value-creation processes. Whether a process relies on big data, autonomous robots, or drone technology, an efficient value chain is crucial for networking all economic touchpoints, and is a key success factor for setting up sustainable companies.
Sustainability has a role to play when it comes to improving value-creation chains and making them more resilient for the future. Designing products and processes that work in harmony with social, environmental and financial considerations, and being able to continuously improve in these areas, is a top priority for businesses. These efforts are not just because policy (due diligence legislation being the key word here), customers, investors and business partners demand this approach. It's become clear that increasingly complex products, innovations and global markets can only develop sustainably and exist long term when based on partnerships.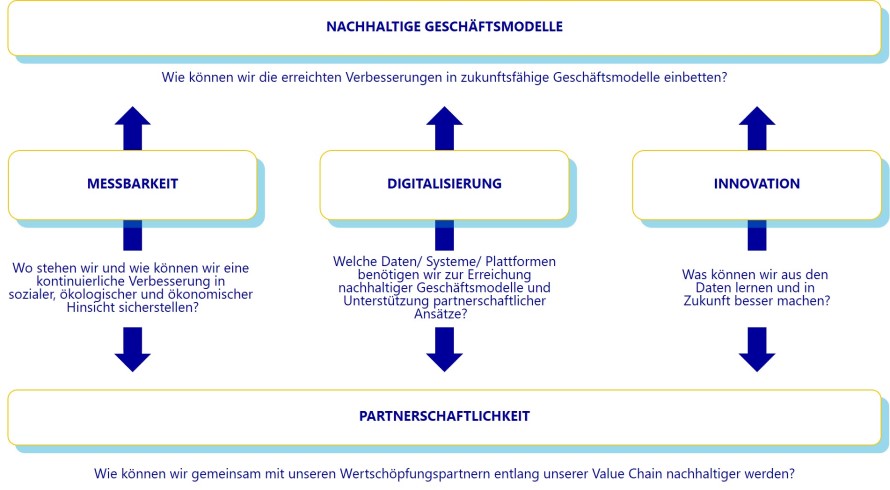 So what does it take to achieve success on this path? To find out, we conducted 100 surveys at the end of 2020 and identified three key issues:
Transparency Companies often know only their direct business partners. For value-creation networks to be sustainable, companies must know which stakeholders are involved in the value creation process and what contribution each one makes.
Big data A vast amount of data is created along a value-creation chain. This data can be used to identify potential for improving the sustainability of a chain, but the ability to obtain this insight requires a shared, standardized database, data retrieval process and data storage. In reality, we are a long way off this being possible, with many companies still buried under a mountain of paperwork or wrangling with their tools.
Sustainable business models A historically growth-driven mindset with all of the associated structures and processes make it difficult to explore the opportunities revealed when value-creation processes and ultimately entire business models are set up with sustainability in mind. The key challenge is how to satisfy customer requirements in an entirely sustainable manner, while enabling the companies in the value-creation process to become more successful long term through their involvement in a sustainable chain.
Based on these findings and our years of experience in value-chain optimization, we would like to share five ideas suitable for examining and improving value-creation networks from a sustainable perspective.
1. Partnership
Companies that do not have a complete overview of their value-creation network generally sell such complex products that it is no longer clear how and where exactly the product components are manufactured. Setting up sustainable value-creation processes must therefore begin with an in-depth analysis of the company's own product and the contribution that its business partners make. The aim is to move away from anonymous "supplier relationships" in favor of trusted and valued "partnerships" with the opportunity to build a common understanding of and commitment to sustainable value creation. The behavior of the producer becomes the motivation for change in this case. Acting as a leader, the producer must cultivate the trust of its partners, and work with them to take or delegate responsibility as appropriate. This approach builds the foundations for open communication, mutual support, and joint innovation.
Catena-X, a network for exchanging data and information within the automotive industry, suggests that platforms to support this change will soon be more widely available
2. Measurability
KPIs for value chain management have largely focused on purchasing performance or cost efficiencies to date. To enable sustainable value creation, new KPIs based on social, environmental and financial factors are required. Based on these criteria, producers and their value-creation partners can set goals and monitor their progress together.
For example, a network that aims to enhance its social contribution via the relationship between its partners can set KPIs for an optimal number of sourcing partners, physical proximity and forms of collaboration. This approach does not mean that single sourcing is the only option. Based on a common understanding of sustainable value creation, the aim is for the network and the individuals within it to benefit from maximum flexibility in addition to transparency, individuality and creativity, which in turn makes all of the partners more resilient.
From an environmental perspective, a reduced number of more local value-creation partners results in shorter transport routes and therefore savings on emissions.
Setting KPIs that track sustainable practices among value-creation partners, such as using recycled materials and modern technologies or analyzing employee satisfaction, focus on the reliability of long-term supply and therefore account for the financial factors.
3. Digitalization
Trust is a good thing, but aiming for transparency is sensible too. It must be possible to track any data generated on the basis of shared values to enable continuous improvements. A uniform and user-friendly method of retrieving data helps to reduce the mountain of paperwork generated from self-assessments forms, code of conduct documentation, and certificates. Tools that can be connected to existing systems enable clear data storage, ‑analysis and ‑interpretation, and can also uncover opportunities for additional improvements. The Catena-X initiative mentioned before offers a beacon of hope for this scenario too. Companies will be able to exchange data and the cross-company processes that rely on this data exchange will be supported via appropriate technologies, such as Blockchain, digital twins and AI as potential options.
4. Innovation
New data technologies can also provide an important motivation for designing innovative supply chains[1] that are implemented and sustained within the value-creation network. One example is the optimization of global procurement transport chains from a sustainability perspective. Once a company has optimized its internal and outbound logistics, the next goal is to set up sustainable inbound processes within global procurement markets while finding a way to increase transport volumes. The main challenge is to optimize how the individual load carriers are utilized at the same time as reducing the number of trips required and the risk of downtime within the chain. System-based transport optimization can help to make processes considerably more fluid, transparent, and innovative. The logistics stakeholders within supply chains, i.e. transport companies and shippers, will both benefit, meaning that each stakeholder and the entire network becomes more competitive and better prepared for the future.
5. Sustainable Business Models
The wording of this idea hints at the fact that true sustainability is much more than just a sustainable value proposition. Instead, sustainability is at the core of every building block within the business model. The aim is to efficiently coordinate and improve the value creation, sales, usage, and recycling processes in a way that always incorporates social, environmental, and financial considerations. This effort initially pays off in terms of conformity with due diligence legislation, but then also in the form of resilience, increased competitiveness and stakeholder loyalty.

We hope that the ideas in this blog have demonstrated the opportunities ahead of us when we think of a better tomorrow. We are certain that partnership, measurability, digitalization, innovation, and sustainable business models can help all value-creation partners be better prepared for the future. We are already looking forward to a shared, inclusive, and sustainable future, and we wish MHP and our customers all the best and every success for the next 25 years!